Dallas County's new Oak Cliff Government Center now open for paying taxes, obtaining licenses
The multimillion-dollar project houses the Justice of the Peace and Tax departments.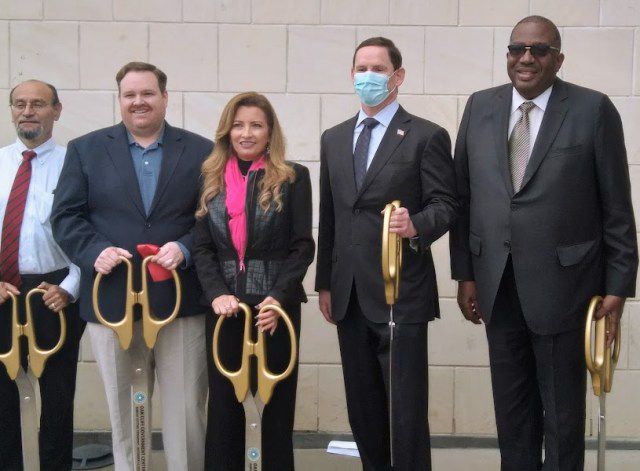 Dallas County officials cut the ribbon this week on the new Oak Cliff Government Center, where residents can pay taxes or get marriage licenses without having to drive across town.
The two-story, 43,000-square-foot building at 702 E. Jefferson Blvd. houses the Justice of the Peace, Constable and Truancy and Tax departments. The $33 million project also included a three-story parking garage with 240 spaces.
Sen. Royce West, D-Dallas, attended the ceremony Tuesday with Justice of the Peace Juan Jasso, tax assessor John R. Ames, County Commissioner Elba Garcia and Dallas County Judge Clay Jenkins.
"This government center is a community center as well," Garcia said. "Not only can you do business here, but you can be part of the community."
The Oak Cliff Government Center was scheduled to open in March, but construction at the 2-acre site began in June, and a groundbreaking ceremony was held in August with representatives from GFF, the project's architect, and Ryan Companies, the construction company and developer.
John Martínez-D., president of the Regional Hispanic Contractors Association, attended the August groundbreaking and underscored the importance of the center's new location.
"I know what it means to be a resident here," he said then. "I know what it means when you have to drive across town to do your government transactions."
He added that an accessible government would build a stronger sense of community.
Information for this story was obtained from The Dallas Morning News archives as well as its partnership with Texas Metro News, which seeks to boost coverage of Dallas' communities of color.
Read the full article here.